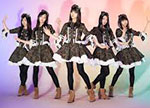 Fans can create their original live photobook from Tokyo Girls' Style Live at Budokan 2012.
To make your own photobook, you have to go on tgs-photobook.com and select your favorite photos. It is available from December 30 to March 31.
A4 (32 pages) and A5 (36 pages) size models are on sale for 3200円 and 2700円.
Different versions are available : one for Tokyo Girls' Style, and others for each member (Yamabe Miyu, Konishi Ayano, Arai Hitomi, Nakae Yuri, and Shoji Mei).