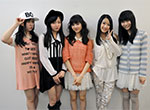 Tokyo Girls' Style's 12th single Unmei / Wonderful Smile (運命 / ワンダフル スマイル) will be released on June 5.
This is a double A-side single. It contains 3 songs and their instrumental versions.
Type A and B editions include a bonus a track and a DVD featuring a music video, its making-of, and special movies including a documentary on Tokyo Girls' Style Live at Budokan 2012.
Unmei is the theme song for the TV show Music Dragon (ミュージックドラゴン) broadcast on Nippon Television (NTV)
Wonderful Smile is a collaboration song performed by Arai Hitomi and Matsushima Wanko. It is used for the Matsushima no Chikara Project (松島のちからプロジェクト). Matsushima Wanko (松島湾子) is the character representing the project.