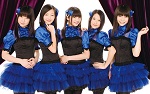 Tokyo Girls' Style will hold Live at Budokan 2012 on December 22.
It will be their first one-man live at the venue. Nippon Budokan is a large arena in Tokyo where many famous musicians performed.
Tokyo Girls' Style are preparing this event for a long time. Their next single will be titled Road to 2012 Budokan ~Bad Flower~. They will hold Tokyo Girls' Style Road to Budokan Pre-Live on October 16.
Schedule
Date : 22/12/2012
Time : 18:00
Venue : Nippon Budokan, Tokyo