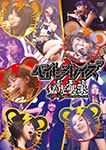 Babyraids Densetsu no Live ~Mouko Shuurai~ (ベイビーレイズ伝説の雷舞! ~猛虎襲来~) will be released on DVD on July 9.
The concert was held on December 23, 2013 at Shinkiba Studio Coast.
Babyraids performed more than 20 songs during this concert.
The idol group also sang with some guests who participated in this live performance.
1500 people attended the event.
Furthermore, Babyraids' 1st album Jiko Shoukai (自虎紹介) is on sale since July 2.
Setlist
Disc 1

Babyraids (ベイビーレイズ)
Level 1
Saijoukyuu!! (最上級!!)
Supernova (スーパーノヴァ)
Together! Together! Together! (トゥゲザー!トゥゲザー!トゥゲザー!)
Koyomi no Ue Deha December (暦の上ではディセンバー)
Bokura no Real (ボクラノリアル)
Avatar ga Ekubo (アバタがエクボ)
Koi wa Panic (恋はパニック)
Happy New Year (ハッピーニューイヤー)
Gate of the Tiger (ゲート・オブ・ザ・タイガー)
Get Over Night
S.O.K.
Yuuki no Uta (勇気のうた)
Baby Ambitious! (ベイビーアンビシャス!)
Baby Revolution (ベイビーレボリューション)
Smile
– Encore –
Christmas ga Rival (クリスマスがライバル)
Big Star! (ビッグ☆スター!)
Jump
Disc 2

Avatar ga Ekubo with Yuguretronica (夕暮レトロニカ)
Christmas ga Riva with Newroteka (ニューロティカ)
Supernova with Hideyoshi (秀吉)
Yuuki no Uta with Tsuru (鶴)
Gate of the Tigher (Remix) with Number the.
Get Over Night with Snail Ramp