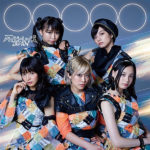 The new single ◯◯◯◯◯ of Babyraids Japan will be on sale on August 2.
The single title is pronounced Maru Maru Maru Maru Maru.
It's the 14th single of the idol group Babyraids Japan.
This is the new ending theme song of the TV anime Nana Maru San Batsu. She was performed at a group concert at the Inage Seaside Park Outdoor Stage on last June 24.
Babyraids Japan have changed musical direction on this single.
The single will be released in three versions: two limited and one regular. The limited edition A will have a CD and a Blu-ray, the limited edition B (a CD and DVD) and a regular version (with a CD only). The main B-side song of this single is entitled Silence Nonsense Sigh.
The CD of limited editions A and B will include one additional song.
Tracklist
Regular Edition

CD

◯◯◯◯◯
Silence Nonsense Sigh.
◯◯◯◯◯ (Instrumental)
Silence Nonsense Sigh. (Instrumental)
Type A

CD

◯◯◯◯◯
Silence Nonsense Sigh.
Namida Nochi Hare (涙のち晴れ)
◯◯◯◯◯ (Instrumental)
Silence Nonsense Sigh. (Instrumental)
Namida Nochi Hare (Instrumental)

Blu-ray

Babyraids JAPAN One Man Live 2016 the Final (2016.12.29 at Akasaka BLITZ)

Babyraids Japan One Man (2017.04.09 at Hibiya Yagai Dai Ongaku do)
Type B

CD

◯◯◯◯◯
Silence Nonsense Sigh.
Namida Nochi Hare (涙のち晴れ)
◯◯◯◯◯ (Instrumental)
Silence Nonsense Sigh. (Instrumental)
Namida Nochi Hare (Instrumental)

DVD

◯◯◯◯◯ (Music Video)
◯◯◯◯◯ (Dance Ver.)
◯◯◯◯◯ (Making Of)
Seaside Photo Collection Making Of
Music Video (PV)