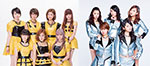 Berryz Kobo and °C-ute held a public conference on July 2 at Japan Expo in Paris Nord Villepinte, France. Check out the full report of the event.
Questions were sent by fans on the festival's Facebook page.
The members of Hello! Project answer to questions more or less serious.
The fist question is for Tokunaga Chinami and Shimizu Saki. Can you do the beat box ?
Very surprised, both girls did it with the support of the assistance.
Momochi, could you learn us how you do your twintails ?
Tsugunaga Momoko : That's magic.
We heard that Maasa became Berryz Kobo's mother.
Sudo Maasa : I participated in Minimoni The Movie with Risako, Airi and Mai 12 years ago. They started calling me "mom" at this time.
Miyabi, we can see on your blog that you love fashion. Would you like to have your own TV show ?
Natsuyaki Miyabi :  Of course, I'd love it. Why not here in Paris !
Yurina likes saying "enjoy" in English. Can she say it in French ?
Kumai Yurina : I've just learnt it : "amusant".
Risako, what is your favorite hair color until now ?
Sugaya Risako : My favorite color is the current one.
Maimi, usually it's raining with you, but will it rain again this time ?
Yajima Maimi : I think that it will be ok, it's not going to rain. The people believe that there is always sun with Berryz Kobo, so maybe it's due to them.
Airi, you're coming in France for the 3rd time. How do you feel ?
Suzuki Airi : I love France and I love eating croissants. I went to the Palace of Versailles, that was nice.
Saki, what are you going to do in France ?
Nakajima Saki : I'd like to go to Champs-Élysées, near the Seine… And why not a picnic with fans.
Chisato, are you happy to sing Kanashiki Heaven again ?
Okai Chisato : Kanashiki Heaven figure is indeed on our new single. With Airi, we may have made a better performance.
Mai, you're meeting your french fans for the second time. Could you summarize your feelings in one word ?
Hagiwara Mai : Eh ? Je t'aime. (I love you)
Why did you participate in Hello! Project audition 12 years ago ?
Tsugunaga Momoko : We wanted to meet you..
When you debuted, you were the youngest members of Hello! Project. Now you have the most experience. How do you feel it ?
Hagiwara Mai : It's a little bit complicated because some members are older than me. I don't believe that I'm a "senpai".
What do you like with your french fans ?
Natsuyaki Miyabi : Their smile. You're cheerful.
Would you like to go to Latin America.
All members : We want to go there !
What is your best memory as an idol ?
Tokunaga Chinami : When we go to foreign countries and that I see fans with our goods.
Shimizu Saki : I'm glad to be with the same members since the creation of Berryz Kobo.
Kumai Yurina : My life totally changed since I passed the audition to join Hello! Project.
Maasa Sudo : Singing on stage.
Sugaya Risako : When I was a child, my dream was to come in France. So i'm happy to be there.
Natsuyaki Miyabi : I love cosplay and sparkling things. It's important for me to do it.
Tsugunaga Momoko : I'm happy because everybody says I'm kawaii.
Suzuki Airi : If I didn't became an idol, my name would still be unknown. Many people wish me a happy birthday, that makes me happy.
Yajima  Maimi : Eating a nabe (Japanese fondue) with the other members.
Hagiwara Mai : °C-ute's live performance at Nippon Budokan last year.
Okai Chisato : I'm glad that none member of °C-ute and Berryz Kobo had an injury or an accident. I hope that it will continue like this.
Nakajima Saki : Before being a member of °C-ute, I was shy. I changed since this period.
Which Japanese word would you like to learn to the audience ?
Tsugunaga Momoko : A very popular word in Japan : Yurushite nyan.
Natsuyaki Miyabi : Miyabeam !
It's now the end of this interview. Do you have a last message ?
Yajima Maimi : Tomorrow, July 3, it will be the 12th anniversary of our debut with Hello! Project. We hope that many of you will attend Berryz Kobo × °C-ute Concert at Japan Expo.