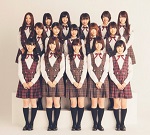 Nogizaka46 are the guests of Japan Expo in Paris Nord Villepinte, France.
July 4 was their special day as the idol group held 3 talk shows and a live performance.
The 8 members who participated in this 1st talk show were Sakurai  Reika, Wakatsuki Yumi, Ikoma Rina, Nishino Nanase, Hashimoto Nanami, Takayama Kazumi, Yamato Rina and Eto Misa.
Check out the interview with Nogizaka46.
Sakurai Reika : Thanks for coming. We're glad to meet you.
The members of Nogizaka46 introduce themselves in French.
Sakurai Reika : We are Nogizaka46, and we are currently 43 members.
Takayama Kazumi : We are the 8 cutest in the group.
Hashimoto Nanami : Kazumi, what are you saying ?!
Nishino Nanase : We thank the fans who came from Japan to support us.
Sakurai Reika : It's the first time that we're coming in France. We visited Paris before coming here. Girls, what are your feelings ?
Wakatsuki Yumi : The city is nice. People are friendly. The first trip after my marriage will be in Paris.
Ikoma Rina : I'm really happy to be in France. I'm also a fan of Naruto like probably some people here.
Nishino Nanase : If I didn't become a member of Nogizaka46 and a singer, I would have come to Paris in order to study abroad. So I'm glad to be here. Moreover, pigeons are nice here.
Hashimoto Nanami : I went to Louvre museum. I didn't really have time to visit. I would like to see the Seine if I can.
Takayama Kazumi : I visited the palace of Versailles. When I was there, I did my personnal joke "Amazing!" and people laughed. I haven't seen this reaction in Japan, so I was happy.
Yamato Rina : I love french food : steak, potatoes, galettes… I gained some weight, so I'll go on a diet when I will be back in Japan.
Eto Misa : I love eating, too. I tasted french specialities like bread, and I bought some for my family.
Sakurai Reika : We're going to hold a concert later. We're going to give you some information to appreciate even more thids live performance
Takayama Kazumi :When we're singing, we loot at people in the eyes. So we would like that you look at us like that, too.
Ikoma Rina : I want to hear you shouting.During the concert, I'm going to put my hand up in the air like this, and I would like that you do the same. It gives us pleasure together.
Sakurai Reika : Some of our singles are inspired by french pop. This is a link between Nogizaka46 and France. Try to feel that when you'll listen to our albums.
Related articles about Nogizaka46 at Japan Expo :