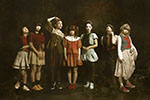 BiS (Brand-new Idol Society) recently made two announcements!
On the one hand, the leader Pour Lui finally resumed her activities with the idol group on October 8. She had been on hiatus last September for failing a regular challenge of BiS and BiSH, DiET or DiE, whose goal was to lose weight.
On the other hand, during their one-man live titled IDOL is DEAD at BLITZ, the girls revealed that the new group mount will make its major debut on the Nippon Crown label, also known as Crown Records, a well-known label for managing other groups in the J-pop scene such as BAND-MAID, SKE48, les PASSPO☆, etc.
We wish a good return of Pour Lui in the group.
Several informations about the major release of BiS next disc will be revealed later.