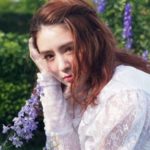 Sugaya Risako, former member of Berryz Kobo, recently announced her pregnancy and her marriage.
This announcement was made on October 18 on her blog and via the website of the agency Up-Front.
Her new husband is a man in his 20s who was introduced to her by a mutual friend at the beginning of this year ; they are living together since it.
Aged 23, Sugaya Risako is pregnant with her companion and for already five months! She also married him.
Still under contract with Up-Front Works, she will take maternity leave to devote herself to her maternal responsibilities. She should give birth in late winter or spring 2018.
Sugaya Risako, known for often dyeing his hair and being (almost) a central member of Berryz Kobo, is the first girl of this former Hello! Project idol group to announce her pregnancy and/or her marriage.
Congratulations to Orin-chan!