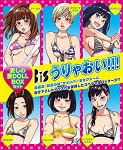 BiS' best album Uryaoi (うりゃおい) will be released on July 2.
This is the last album from BiS as the idol group is going to disband on July 8, 2014 after a last live performance at Yokohama Arena.
The new MV for nerve directed by Nigo (2.5D × Vice) has been released.
3 editions are available.
The Love Doll Box set includes 2 CD and 3 DVD featuring their greatest hits, cover songs, music videos, bonus footage filmed in Okinawa with the members in bikini, and a live tour documentary. It also comes with a 100-page photobook and a mouse pad.
Furthermore, BiS released the single Final Dance / nerve on May 28.
Tracklist
Disc 1 : Perfect Best (CD)

Give me your love 全部
BiS
Taiyou no Jumon (太陽のじゅもん)
nerve
Reribi (レリビ)
My Ixxx
primal.
IDOL
PPCC
BiSimulation
DiE
Fly
STUPiG
primal.2
FiNAL DANCE
Tada Naite (ただ泣いて)
Disc 2 : Cover Best (CD)

Elegant no Kaibutsu (エレガントの怪物)
YAH YAH YAH
survival dAnce ~no no cry more~
Our Song
Demo Sayonara (デモサヨナラ)
Ano Kobo (あの頃) (BiS Kyoushuku version)
Denden Passion (でんでんぱっしょん)
Primal (プライマル。)
Suki Suki Daisuki (好き好き大好き) / BiS Kaidan (BiS階段)
Disc 3 : Music Clip (DVD)

BiS
Paprika (パプリカ)
nerve
My Ixxx
primal.
Idol (アイドル)
IDOL
PPCC
IDOL is DEAD
ASH
Hitoribochi
GET YOU w/ Dorothy Little Happy
BiSimulation
Hide out cut
DiE
MURA-MURA
Fly
Hi
STUPiG
ODD FUTURE -Pour Lui ver.- (-プー・ルイ Ver.-)
ODD FUTURE -Hirano Nozomi ver.- (-ヒラノノゾミ Ver.-)
ODD FUTURE -First Summer Uika ver.- (-ファーストサマーウイカ Ver.-)
ODD FUTURE -Tentenko ver.- (-テンテンコ Ver.-)
ODD FUTURE -Kamiya Saki ver.- (-カミヤサキ Ver.-)
ODD FUTURE -Koshoji Megumi ver.- (-コショージメグミ Ver.-)
primal.2
FiNAL DANCE
Tada Naite (ただ泣いて)
Disc 4 : BiS in OKINAWA (DVD)
Disc 5 : "BiS after all" Tour Documentary (DVD)
Music Video (PV)