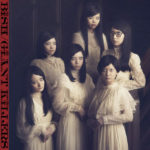 The new mini album of BiSH entitled GiANT KiLLERS will be released on June 28.
The MV for the song GiANT KiLLERS has been unveiled.
The mini album will be released in 4 different versions.
The original CD contains a total 5 new songs.
The CD+DVD version includes their BiSH concert held at Zepp Tokyo on March 19, 2017 and the 2CD version includes the bonus CD « iNTRODUCING BiSH » (containing the first 12 songs).
The limited edition of the first press comes in a special box that includes a Blu-ray (includes the concert at Zepp Tokyo), the bonus CD and a photobook.
There is also a special iTunes version that can be pre-ordered for a day, June 8, including all 17 songs for only 900 yen, music being downloadable starting on June 9.
The BiSH is currently performing their tour NEVERMiND TOUR RELOADED through Japan and will perfom the final concert (BiSH NEVERMiND TOUR RELOADED THE FiNAL "REVOLUTiONS") of their tour at Makuhari Messe Event Hall on July 22.
Tracklist
CD

GiANT KiLLERS
Marionette
Nothing.
Shakai no Rule (社会のルール)
VOMiT SONG
Music Video (PV)