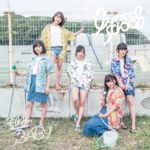 Lyrical School will release their single Natsuyasumi no Baby (夏休みのBABY) on July 18 .
The new members Hinako, Yuu and Risano will make their first appearance on a disc of the idol unit.
The summer is the single's theme.
The MV will be unveiled later.
The CD will contain the title chanso, a B-side sing and their instrumental versions.
The songs Natsuyasumi no Baby et Concrete Jungle ~Boy meets Girl~ were written by Junya Okubo (Ana) and Fountain Masa Cherry (from WEEKEND).
An audio drama of each member will feature in thier respective nominative editions.
Lyrical School will be present at Tokyo Idol Festival 2017 in August.
Tracklist
CD

Natsuyasumi no Baby (夏休みのBABY)
Concrete Jungle ~Boy meets Girl~
Natsuyasumi no Baby (Instrumental)
Concrete Jungle ~Boy meets Girl~ (Instrumental)