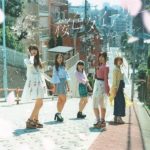 Moso Calibration released their new single Sakurairo Diary (桜色ダイアリー) on June 14.
This is their 5th major label single by Moso Calibration.
The MV takes the form of a dating-sim game during the sakura blooming season and features Iori Amamiya playing the piano.
The song Sakurairo Diary is the theme song of the anime Sasaenai Heroine no Sodatekita ♭ ; the lyrics were written by Moso Calibration members and Sawai Miku.
The bonus track PINKY☆STAR for limited edition is a song by NiaPin (Hoshino Nia from Moso Calibration and Fujisaki Ayane from Dempagumi.inc).
The single will be available in 3 editions.
Tracklist
Regular Edition

CD

Sakurairo Diary (桜色ダイアリー)
Seishun Prologue (青春プロローグ)
Sakurairo Diary (Instrumental)
Seishun Prologue (Instrumental)
Limited Edition

CD

Sakurairo Diary (桜色ダイアリー)
Seishun Prologue (青春プロローグ)
PINKY☆STAR (Niapin)
Sakurairo Diary (Instrumental)
Seishun Prologue (Instrumental)
PINKY☆STAR (Instrumental)

DVD

Sakurairo Diary (Music Video)
Sakurairo Diary (Music Video Making)
Anime Edition

CD

Sakurairo Diary (桜色ダイアリー)
Seishun Prologue (青春プロローグ)
Subarashiki Sekai (LAVALITH) (スバラシキセカイ)
Sakurairo Diary (Instrumental)
Seishun Prologue (Instrumental)
Subarashiki Sekai (Instrumental)

DVD

Sakurairo Diary (Music Video)
Saenai Heroine no Sodatekata ♭ ED Video (Non-Credit ver.)
Music Video (PV)