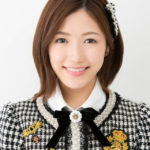 Watanabe Mayu announced her graduation from AKB48.
The announcement was made by herself on June 17, during the 49th selection (senbatsu) of AKB48 members (for the next 49th single).
She explained that she wanted to open up to other areas and have a fresh start after 10 years as an idol.
Her graduation is somewhat expected since several members have already announced to leave the group this year. However, Mayuyu is among the most popular members of the group so many fans were taken aback.
Watanabe Mayu joined in Team B of AKB48 in December 2009. She was transferred to Team A in August 2012 and returned to Team B in February 2014.
She has released solo singles since 2012.
She was born on 26 March 1994 and is 23 years old.