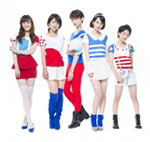 bump.y Happy Birthday Concert ~The 3rd Departure~ (bump.y ハッピーバースデーconcert▼ ~the 3rd departure~) will be held on August 25.
The concert will take place at Laforet Museum Roppongi, Tokyo.
As its name suggests, this event will celebrate the 3rd anniversary of bump.y's debut. Indeed, their 1st single Voice was released on August 25, 2013.
2 live performances are scheduled, one in the afternoon and another in the evening.
Schedule
Date : 25/08/2013
Time : 15:00 (1st stage) / 18:00 (2nd stage)
Venue : Laforet Museum Roppongi, Tokyo.