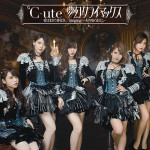 The 30th single of °C-ute entitled Mugen Climax / Ai wa Maru de Seidenki / Singing ~Ano Koro no You ni~ (夢幻クライマックス/愛はまるで静電気/Singing〜あの頃のように〜) will be released on November 2.
The 3 music videos were unveiled.
In the MV, C-ute goes back in time in the seventeenth century and dancing in a luxurious European-style room with glittering chandeliers that shine all around them ; the membres appear in military uniforms highlighted with epaulets and corsets. Some of you might recognize samples of Ludwig van Beethoven's piano sonata No 14- presto agitato (also known as Moonlight Sonata) mixed in with J-pop and electronic dance beats.

Oomori Seiko wrote and composed the song Mugen Climax while the arrangement was made by Kaoru Okubo. In some lyrics of the song, we can strangely find the names of the eight original members of C-ute : "sayonara amai", "nakikuse waraiai rikutsu no nai yorokobi", "aimai mikansei no ayamachi satotta kedo", "anata wa wakannai okaeri kara no kodoku", and "megutte iku."

Ameko Kodama was in charge of writing the lyrics of Ai wa Maru de Seidenki.
Former Hello! Project producer Tsunku wrote the lyrics of Singing ~Ano Koro no You ni~.
Le single will be available in several editions. It was released in 3 limited editions (CD+DVD) rated A, B, C, and 3 regular editions (CD Only) also rated A, B, and C.
Furthermore, the group announced last August its break up in June 2017.
Tracklist
CD

Mugen Climax (夢幻クライマックス)
Ai wa Maru de Seidenki (愛はまるで静電気)
Singing ~Ano Koro no You ni~ (Singing〜あの頃のように〜)
Mugen Climax (Instrumental)
Ai wa Maru de Seidenki (Instrumental)
Singing ~Ano Koro no You ni~ (Instrumental)
Limited Edition A DVD

Mugen Climax (Music Video)
Limited Edition B DVD

Ai wa Maru de Seidenki (Music Video)
Limited Edition C DVD

Singing ~Ano Koro no You ni~ (Music Video)
Music Video (PV)