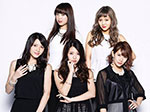 °C-ute's 27th single Tsugi no Kado wo Magare / Gamusha Life / The Middle Management ~Josei Chuukan Kanrishoku~ (次の角を曲がれ/我武者LIFE/The Middle Management ~女性中間管理職~) will be on sale on April 1.
Moreover, the MV and the new profile picture of °C-ute members have been revealed.
It is a triple A-side single.
The limited editions include bonus DVD featuring various versions of the music videos and making-of footage. They also include a lottery ticket to participate in a handshake event.
Tracklist
CD

The Middle Management ~Josei Chuukan Kanrishoku~ (~女性中間管理職~)
Gamusha Life (我武者LIFE)
Tsugi no Kado wo Magare (次の角を曲がれ)
The Middle Management ~Josei Chuukan Kanrishoku~ (Instrumental)
Gamusha Life (Instrumental)
Tsugi no Kado wo Magare (Instrumental)

DVD

The Middle Management ~Josei Chuukan Kanrishoku~ (Music Video)
Gamusha Life (Music Video)
Tsugi no Kado wo Magare (Music Video)
Music Video (PV)