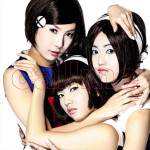 Callme's 1st single To Shine will be released on March 4.
Callme is a sub-unit of Dorothy Little Happy consisting of Mimori, Ruuna and Koumi.
It is the tie-up song for the shows Music Dragon airing on NTV (Nippon Television) and Joshista airing on Sapporo TV.
The songs are more adult than Dorothy Little Happy's ones because the 3 members are going to graduate from high school this year.
Ruuna is the leader of the idol group.
Mimori is the music composer.
Koumi is in charge of the choreography.
The 3 girls wrote the lyrics together.
Furthermore, Callme are going to hold their 1st live performance on April 18 at Tsutaya O-East, Tokyo.
Special editions of the single are on sale at mu-mo shops and release events held by the idol group.
Tracklist
Regular Edition

CD

To shine
Falling for you
Once again
To shine (Instrumental)
Falling for you (Instrumental)
Once again (Instrumental)
Limited Edition

CD

To shine
Once again
To shine (Instrumental)
Once again (Instrumental)

DVD
Music Video (PV)