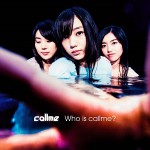 callme's 1st album Who is callme? will be on sale on October 28th.
The MV for their new song step by step has been released.
This is a fresh pop song. The girls show their dancing skills in the music video.
In October, it is the tie-up for the TV show Pon! airing on NTV.
callme is an idol group consisting of former members from Dorothy Little Happy. They graduated in July.
They are a self-produced unit. Ruuna, Mimori and Koumi are in charge of songwriting, music and choreography themselves.
Moreover, the idol group is going to hold its 1st concert tour entitled Live Museum 2015 Who is callme? in December.
Tracklist
CD

Intro
step by step
My affection
Oh yeah!
Precious
Falling for you
game is mine
For you
Interlude 1
change my life
I'm alone
Like a breeze
Interlude 2
Be myself
My Style
just trust

DVD

step by step
callme's offshot movie
Music Video (PV)