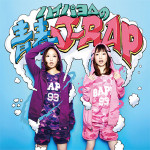 hy4_4yh's new album Hyper Yo no Seishun J-Rap (ハイパヨ△の青春J-Rap) will be on sale on October 28th.
For the first time, the members of the idol group perform Japanese rap song covers.
This album contains 7 tracks from various artists.
Furthermore, hy4_4yh members Yukarin and Chanyumi are participating in the HMV Happy Halloween campaign. You can see the poster below.
Tracklist
B-BOYism (B-BOYイズム) / Rhymester
Funkastic / RIP Slyme
Hana (花) / Orange Range
Sunrise (サンライズ) / Bennie K
Konya wa Boogie Back (今夜はブギー・バック) (smooth rap) / Scha Dara Parr
Kokoro Odoru (ココロオドル) / nobodyknows+
Unbalance (アンバランス) / Kick the Can Crew