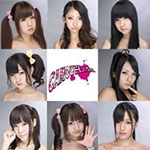 Toshino Sakura and Kawai Miori graduated from Camouflage on April 26 during their live performance.
On the same day, it was announced that Sanjo Katsuki was added to the idol unit as a new member.
Toshino Sakura and Kawai Miori were members of Camouflage since its creation in October 2012. Both girls were also part of Moery Star (もえりぃすたぁ).
Toshino Sakura explained on her blog that she wanted to become a DJ. She was already in charge of this part in the idol group.