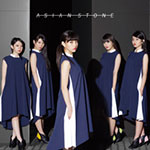 Dorothy Little Happy's new single Asian Stone will be released on October 16.
The A and B editions come with a DVD featuring either the music video or some live performance footage.
The C edition includes a bonus track.
Check out the music video.
It will be used in October as the theme song for the TV programs Music Dragon (ミュージックドラゴン), Sore Ike! Game Panther! (それいけ!ゲームパンサー!), Poshure Departo Shinya Mise (ポシュレデパート深夜店) airing on Nippon Television (日本テレビ), and Night Shuffle (ナイトシャッフル) broadcast in Fukuoka.
Furthemore, Dorothy Little Happy will hold concerts on September 29 at Macana in Sendai, and on October 5 at Shibuya WWW in Tokyo.
Type A & B
CD

Asian Stone
Clap! Clap! Clap!
Asian Stone (Instrumental)
Clap! Clap! Clap! (Instrumental)
DVD (Type A)

Asian Stone (Music Video)
DVD (Type B)

~Locodol Happy Jam in Osaka Vol.3~ Digest
Type C
CD

Asian Stone
Koi wo Shiteru no Kitto (恋をしてるの きっと)
Clap! Clap! Clap!
Asian Stone (Instrumental)
Koi wo Shiteru no Kitto (恋をしてるの きっと) (Instrumental)
Clap! Clap! Clap! (Instrumental)
Music Video (PV)