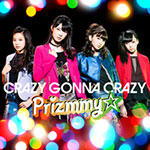 Prizmmy☆ will release their new single Crazy Gonna Crazy on October 30.
It is the 9th single from Prizmmy☆ and their 3rd cover of a song from TRF.
The CD contains 3 versions of the title song. It comes with a DVD featuring the music video and bonus footage. It also includes a 4-page booklet detailing the choreography.
The track is the 3rd opening theme song for the anime series Pretty Rhythm Rainbow Live (プリティーリズム・レインボーライブ).
Check out the music video.
Tracklist
CD

Crazy Gonna Crazy
Crazy Gonna Crazy -Funkot Mix-
Crazy Gonna Crazy (Instrumental)
DVD

Crazy Gonna Crazy (Music Video)
Crazy Gonna Crazy (Dance Master Ver.)
Prizmmy☆ ga Sabi no Furitsuke wo Teinei ni Lecture! 「Let's! Dance! Crazy Gonna Crazy!!」 (Prizmmy☆がサビの振り付けをていねいにレクチャー!)
Music Video (PV)