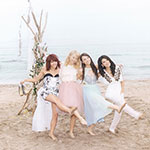 Dream's new single Darling (ダーリン) will be released on November 5.
This maxi single includes 4 songs by Flower. It is the first single of the Japanese pop girl group for almost one year and a half.
The MV has been unveiled.
The theme is marriage. The song is about a woman waiting for a proposal from her future husband.
Nishida Shizuka gives her first on-screen kiss in the music video.
The scene takes place on the seaside.
Tracklist
Regular Edition

CD

Darling (ダーリン)
Unbelievable
Egao no Hana (えがおの花)
Wanna Wanna Go!
Darling (Instrumental)
Unbelievable (Instrumental)
Egao no Hana (Instrumental)
Wanna Wanna Go! (Instrumental)
Limited Edition

CD

Darling
Unbelievable
Egao no Hana (えがおの花)
Wanna Wanna Go!
Darling (Instrumental)

DVD

Darling (Music Clip)
Making-of
Music Video (PV)