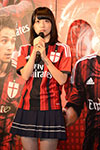 Fukagawa Mai (Nogizaka46) will serve as the narrator on AC Milan Channel (ACン・チャンネル ミラノミラン).
The show started airing on BS12ch TwellV channel in Japan on October 13.
As its title suggests, this 5-minute program is about the famous Italian football club. The themes are also the food, the fashion and the culture of Milan.
The press conference was held on October 6 at Akihabara Akiba Theater, Tokyo.
Fukagawa Mai faced the challenge to draw the portrait of Japanese player Honda Keisuke in 10 seconds.
The member of Nogizaka46 was wearing AC Milan jersey with the number 46 and her nickname Maimai on the back.