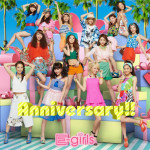 E-Girls' new single Anniversary!! will be released on May 20.
This song is used in the latest commercial for Samantha Vega featuring E-Girls members.
The MV and the TV CM have been unveiled.
Since summer is coming up soon, the video shows E-Girls members having fun at the seaside. The choreography includes jump rope moves. The young women are wearing colorful fashion clothes. It is a pop tune expressing positive feelings.
Furthermore, Flower's 10th single Blue Sky Blue will be on sale on April 29.
Tracklist
CD

Anniversary!!
Saturday Night ~Rock na Yoru ni Mahou wo Kakete~ (Saturday Night 〜ロックな夜に魔法をかけて〜)
Anniversary!! (Instrumental)
DVD

Anniversary!! (Video Clip)
Music Video (PV)