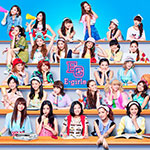 E-Girls' new single Highschool Love will be released on September 10.
It is the last part of the series of 3 singles released by E-Girls in 3 months.
The MV and its school uniform version have been unveiled.
It is the theme song for the drama GTO airing on Fuji TV.
It is also the CM song for the TV commercial Samantha Vega meets E-Girls.
The members of E-Girls and 200 other people participated in the music video. The scenes take place in the hallway, a classroom and the gymnasium of a colorful high school. The theme is an "exciting alumni party".
Tracklist
Regular Edition

CD

Highschool Love
Again
Highschool Love (Instrumental)
Again (Instrumental)
Limited Edition

CD

Highschool Love
Again
Highschool Love (Instrumental)

DVD

Highschool Love (Music Video)
Music Video (PV)