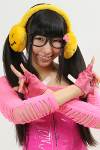 It is with great sadness that we have to announce the death of Tsukimiya Karen (Steamgirls).
The member of Alice Project died in an accident in early July, but the news has just been announced by her father via a letter published by the company on its website.
Tsukimiya Karen was 17 years old. She was known for wearing fake glasses. She was part of Alice Project for a few years. She was a member of Steamgirls and of the units Kamen Joshi, White Milk and Soup Girls.
Tsukimiya Karen had written the lyrics of the song Destiny.
More details : http://pureidolheart.net/2014/09/steamgirls-member-tsukimiya-karen-has-passed-away/
Our thoughts are with her family and her loved ones during this difficult time of loss.