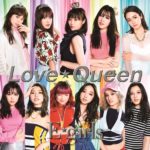 E-Girls are back this summer with a new single Love☆Queen which was released on July 26th.
E-Girls underwent a major line-up change within the group in May and June ; and now has 11 members.
Check out the MVs for Love☆Queen and Smile For Me below.
The single is sold in several editions.
The tracklists are different depending on the edition.
A photobook is also on sale with one of the single editions.
Tracklist
Regular Edition

CD

Love☆Queen
Smile For Me
Tomorrow will be a good day
Piece of your heart
Love☆Queen (Instrumental)
Smile For Me (Instrumental)
Tomorrow will be a good day (Instrumental)
Piece of your heart (Instrumental)
Limited Edition

CD

Love☆Queen
Smile For Me
Tomorrow will be a good day
Piece of your heart
Love☆Queen (Instrumental)

DVD

Love☆Queen (Music Video)
A Portrait of the Brand new E-girls (Making Film)
Deluxe Edition

CD

Love☆Queen
Smile For Me
Tomorrow will be a good day
Piece of your heart
Love☆Queen (Instrumental)

DVD

Love☆Queen (Music Video)
A Portrait of the Brand new E-girls (Making Film)
Music Video (PV)