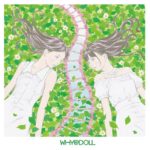 Why@Doll will release their new self-titled album Why@Doll on August 1st.
This is the 2nd album by Why@Doll after their previous one Gemini (2015). It was released under the label T-Palette Records.
You can find the lastest singles of the group released under T-Palette : Sumire Iolite and Kimi wa Steady.
The CD contains 10 songs in total.
Tracklist
Sumire Iolite (菫アイオライト)
Kimi wa Steady (キミはSteady)
Tokyo Dancing
Koina no ka na? (恋なのかな?)
Mahou no Kagami (マホウノカガミ)
Wasurenaide (忘れないで)
Dreamin' Night
Yoru wo Oyoide (夜を泳いで)
Hello Hello Hello
Koi wa Shoo-bi-doo-bi-doo-da! ( 恋はシュビドゥビドゥバ!)