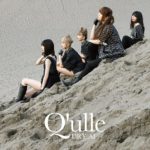 Q'ulle will release their new single DRY AI on August 2nd.
This is the 2nd major label single by Q'ulle.
Check out the MVs for DRY AI et Party Rock!!!!! below!
The single will be sold in several versions: 1 regular (CD only), 2 limited (CD+DVD+VR and CD+DVD). The limited edition DVD contains the clip and/or an additional video.
The tracklists are different depending on the edition.
The Deluxe edition will include the music video for DRY AI in virtual reality, as well as with special glasses to view the clip. A live version of the song Party Rock!!!!! will be featured in the edition.
Tracklist
Regular Edition

CD

DRY AI
PARTY ROCK!!!!!
Kimi to Boku (キミと僕)
DRY AI (Instrumental)
PARTY ROCK!!!!! (Instrumental)
Kimi to Boku (Instrumental)
Limited Edition

CD

DRY AI
PARTY ROCK!!!!!
Kimi to Boku (キミと僕)
DRY AI (Instrumenal)

DVD

DRY AI (Video Clip)
DRY AI / PARTY ROCK!!!!! / Kimi to Boku – Making Clip –
Deluxe Edition

CD

DRY AI
PARTY ROCK!!!!!
Kimi to Boku (キミと僕)

DVD

DRY AI (Video Clip)
PARTY ROCK!!!!! (Live Clip)
Music Video (PV)