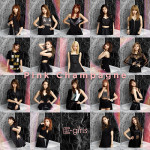 E-Girls will release their new single Pink Champagne on August 10.
This is the 17th single of the idol group.
It is a single from « E.G. COOL » concept. It follows the single E.G. summer RIDER from the « E.G. Pop » concept.
It will be released in 3 editions: CD+DVD, CD Only, and One Coin.
The "One Coin" edition will contain a CD with only the title song ; it will be on sale only on mu-mo online store.
The CDs of the other editions are different and don't have the same tracklist.
Discover the clip video below.
Tracklist
Regular Edition

CD

Pink Champagne
Bad Girls
Cowgirl Rapsody (カウガール・ラプソディ)
Dance Dance Dance (PKCZ® Remix)
Pink Champagne (Instrumental)
Bad Girls (Instrumental)
Cowgirl Rhapsody (Instrumental)
Limited Edition

CD

Pink Champagne
Bad Girls
Cowgirl Rapsody (カウガール・ラプソディ)
Dance Dance Dance (PKCZ® Remix)
Pink Champagne (Instrumental)

 DVD

Pink Champagne (Video Clip)
Music Video (PV)