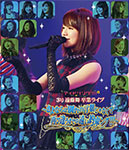 Idoling!!!'s Endo Mai Graduation Live will be released on Blu-ray on April 30. It was her last appearance with the idol groupe.
The concert was titled #3 Endo Mai Sotsugyou Live ~Sayonara wa Wakare no Kotoba Janakute Futatabu Au made no Tooi Yakusoku ng!!!~ (3号遠藤舞卒業ライブ~さよならは別れの言葉じゃなくて再び逢うまでの遠い約束ング!!!~).
All the members of Idoling!!! participated in the concert. The event was held on February 14, 2014 at Zepp DiverCity in Tokyo.
The costumes of the members were designed by Endo Mai.
The former leader of Idoling!!! had also selected the 33 songs featuring in the setlist. She included new and old songs of the unit.
The Blu-ray includes the graduation ceremony.
In addition, Endo Mai's 2nd single Mujina will be on sale on May 14.
Setlist
Shine On
Shout!!! (シャウト!!!)
I'd Ring
Summer Lion (サマーライオン)
Sakura Thank You (さくらサンキュー)
One Up!!!
Mamore!!!
Don't think. Feel!!!
eve
Konayuki ga Mau Machinami de (粉雪が舞う街並で)
Yarakai Heart (やらかいはぁと)
Go East!!! Go West!!!
Poolside Daisakusen (プールサイド大作戦)
Me ni wa Aoba Yama Hototogisu Hatsukoi (目には青葉 山ホトトギス 初恋)
I no Standard 2014 (Iのスタンダード2014)
3 dome no Kinenbi (3度目の記念日)
U
Hannin wa Anata Desu (犯人はあなたです)
voice
Only One
friend
Nado Nado Nado Nado no Song (等・等・等 等のSong)
S.O.W. Sense of Wonder (S.O.W. センスオブワンダー)
Mujouken Koufuku (無条件☆幸福)
baby blue
Kokuhaku (告白)
Snow celebration
Moteki no Uta (モテ期のうた)
Hyakkaryouran Idoling!!! (百花繚乱アイドリング!!!)
Like a shooting star
Ganbare Otome (Warai) (ガンバレ乙女(笑))
– Encore –
Shokugyou : Idol (「職業:アイドル。」)
Sayonara Mata ne Daisuki (さよなら・またね・だいすき)