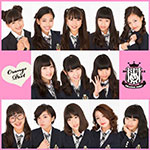 Orange Port will participate in Japan Expo 2014 in France.
Orange Port will give a live performance on the Japan Expo stage. The girls may also hold a signing session during the festival.
Japan Expo is the biggest convention dedicated to Japanese culture in Europe. The festival will be held on July 2-6 at Paris Nord Villepinte in France.
Further details will be announced later.
Other idols such as Nakagawa Shoko and Berryz Kobo × °C-ute are going to participate in the 15th edition of Japan Expo.