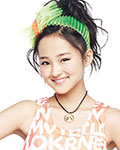 Takeda Kyoka announced her withdrawal from E-Girls on April 20.
Takeda Kyoka explained that her goal was to become an actress in the future.
She passed the Vocal Battle Audition 3 held by LDH in 2011. She is a member of E-Girls and Bunny.
Furthermore, E-Girls' new album Colorful Pop is on sale since March 19.