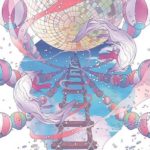 FES☆TIVE comes back this year with their new single Disco Rettou Ukiyo no Yume (ディスコ列島浮世の夢).
This single will be released on February 22
Check out the music video below posted recently. The main actress is Kato Rihona (from the T-Zone talent agency).
It will be available in 3 versions under Tokuma Japan label.
The cover art of the single is, in fact, an entire drawing divided in three.
The songs on the third track vary according to the editions.
The song Disco Retto Ukiyo no Yume has a disco and electro style, and was written by Kodama Ameko, composed and arranged by Miifuu.
The coupling song Heart Mail (Type B) is performed by the members Aoba Hinari, Sakamoto Yuna, and Suzuki Mitsuki and the coupling song Yakusoku no Nichiyoubi is performed by the members Momohara Hiyo, Suzuk Kotonei, and Shiozaki Reia.
Tracklist
Type A

CD

Disco Rettou Ukiyo no Yume (ディスコ列島浮世の夢)
Shirogane wo Duffel Coat ni (白銀をダッフルコートに)
Tora to Uma (トラとウマ)
Type B

CD

Disco Rettou Ukiyo no Yume (ディスコ列島浮世の夢)
Shirogane wo Duffel Coat ni (白銀をダッフルコートに)
Heart Mail (ハートメール)
Type C

CD

Disco Rettou Ukiyo no Yume (ディスコ列島浮世の夢)
Shirogane wo Duffel Coat ni (白銀をダッフルコートに)
Yakusoku no Nichiyoubi (約束の日曜日)
Music Video (PV)