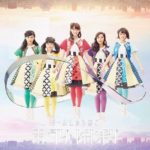 Team Syachihoko will release its 2nd album Owari to Hajimari (おわりとはじまり) will be released on February 22.
A promotional video was unveiled.
In this new album, you can find the latest singles of the idol group : Shampoo Hat and Tensai Bakabon (under a different version), Chérie! et Ultra Chou Miracle Super Very Power Ball.
It will be sold in three editions: one regular (one CD only) and two limited A (CD+Blu-ray) and B (2CD).
This is the first album without Ando Yuzu who had suspended her activities for illness in November 2015 but who finally graduate from the group on last September 29.
Tracklist
CD

Professional Shisyunki (プロフェッショナル思春期)
START
Kanzen Mazoku NGY (完全満足NGY)
Shampoo Hat (Album ver.) (シャンプーハット)
Road Movie (ロードムービー)
Cherie!
Tensai Bakabon (Album ver.)
Kissy-Men (Kissy-麺)
Yume Demo Ii no (夢でもいいの)
Watashi no Yuuki (ワタシノユウキ)
Parade wa Yozora Wokakeru (パレードは夜空を翔ける)
Ultra Chou Miracle Super Very Power Ball (ULTRA 超 MIRACLE SUPER VERY POWER BALL)
Nakushi Mono (なくしもの)
Limited Edition A Blu-ray

Road to Kasadeka -4 Nenkan no Kiseki to 5 Nen me no Kiseki-
Limited Edition B CD2

Ottori Girl no Yuutsu (おっとりガールの憂鬱)
BABY Misokatsu (ベイビーミソカツ)
La La La Idol (ら・ら・ら・アイドル)
Naite Nanka Inai yo  (泣いてなんかいないよ)
Chiisa na Yoru no Uta (小さな夜のうた
Tsubasa wa Sazukete Gloria (翼を授けてグローリア)
Radio ni Onegai (レディオにおねがい)
Himitsu no Serenade (秘密のセレナーデ)
Video