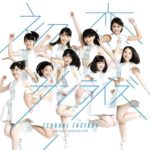 Tsubaki Factory makes its major debut with its new triple A-side single.
It's intitled Hatsukoi Sunrise / Just Try! / Uruwashi no Camellia (初恋サンライズ / Just Try! / 麗しのカメリア) and it will be released on February 22.
The members Ono Mizuho, ​​Onoda Saori and Akiyama Mao make their first appearance on a group disc.
Check out the music videos below.
The song Hatsukoi Sunrise was written by Izutsu Himi, composed by Yamada Yusuke and arranged by Kondo Keiichi.
The song Just Try! was written and composed by Tsunku♂ and arranged by Kaoru Okubo.
The song Uruwashi no Camellia was written by Kodama Ameko, composed and arranged by Kato Yusuke.
The single will be sold in seven versions: 3 regular editions A, B and C (including CD only) and 4 limited editions rated A, B, C and SP (containing each one with a different DVD and a serial number card which, when entered in a lottery, could win a ticket to one of the single's launch events). A special box set, including all versions of the single, will be available.
Tracklist
CD

Hatsukoi Sunrise (初恋サンライズ)
Just Try!
Uruwashi no Camellia (麗しのカメリア)
Hatsukoi Sunrise (Instrumental)
Just Try! (Instrumental)
Uruwashi no Camellia (Instrumental)
Limited Edition A DVD

Hatsukoi Sunrise (Music Video)
Limited Edition B DVD

Just Try! (Music Video)
Limited Edition C DVD

Uruwashi no Camellia (Music Video)
Limited Edition SP

Hatsukoi Sunrise (Dance Shot Ver.)
Just Try! (Dance Shot Ver.)
Uruwashi no Camellia (Dance Shot Ver.)
Music Video (PV)