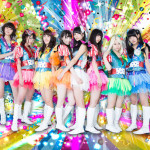 FES☆TIVE's new single Kingyo no Kin-chan (金魚のきんちゃん) will be on sale on November 25.
The theme is "Goldfish scooping" (金魚すくい; kingyo sukui), a traditional Japanese game whose concept is to catch a goldfish with a special scooper. It is a common activity that can be played at summer festival stalls in Japan.
A video message by the members of the idol group has been published.
This is the 2nd major single by the festive idol group after Omatsuri Hero (お祭りヒーロー) released in May 2015.
Shiozaki Reia told that the goal of the members was to reach the top 20 on the Oricon weekly chart. They regret for having failed with their previous CD. She added that the melody of the 3 songs was fun and different, and so that it was hard to find a favorite one because she likes them all.
Moreover, it was announced that FES☆TIVE One-man Live will be held on May 18, 2016 at Tsutaya O-East, Tokyo. This will be the biggest venue in which the idol group performed until now.
Tracklist
Kingyo no Kin-chan (金魚のきんちゃん)
Yume Hanabi (夢花火)
WASSOINTHEWORLD
Video