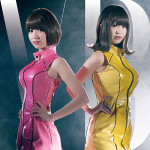 Vanilla Beans' new single Onna wa Sore wo Gaman Shinai / Be-nius / lonesome X (女はそれを我慢しない / ビーニアス / lonesome X) will be released on November 18.
Their new profile picture has been unveiled. Rena and Risa are wearing sexy costumes that emphasize big breasts.
The MV for Onna wa Sore wo Gaman Shinai has been published.
If more that 15000 copies of this CD are sold, a new album will be released in 2016, else the unit will disband and stop its activities.
As it was already announced, this single marks the 2nd major label debut of Vanilla Beans after that the idol group joined avex trax a few weeks ago.
Matsui Hiroshi, aka royal mirrorball, wrote the lyrics and composed the music of Onna wa Sore wo Gaman Shinai. He has worked for Tokyo Girls' Style in the past.
Be-nius was written and composed by Osume Tomotaki who has already made several tunes for Vanilla Beans.
lonesome X is described as a Christmas song.
These 3 songs were introduced during an event held to celebrate Vanilla Beans' 8th anniversary on October 3.
In addition, it was announced that a new album will be on sale in 2016. However, the idol group has first to sell at least 15000 copies of the single, else the album will be cancelled and the duet consisting of Rena and Risa will disband.
The members of Vanibe are going to participate in series of release event from October 10 to November 29 across Japan.
Vanilla Beans One-Man Live Vol.8 (バニラビーンズ ワンマンライブ Vol. 8) will be held on November 21 at Club Asia in Tokyo.
Tracklist
CD

Onna wa Sore wo Gaman Shinai (女はそれを我慢しない)
Be-nius (ビーニアス)
lonesome X
Onna wa Sore wo Gaman Shinai (Instrumental)
Be-nius (Instrumental)
lonesome X (Instrumental)
DVD

Onna wa Sore wo Gaman Shinai (Instrumental)
Making-of
Music Video (PV)