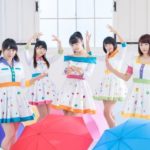 Up Up Girls (2) unveiled their second single.
It is entitled Doshaburi no Terrace Seki / Fuyutotetote (どしゃぶりのテラス席 / フユトテトテ) and has a double A-side.
The single is released on January 1, 2018 under the label T-Palette Records.
In the MV, we can see the members of Up Up Girls (2) dancing in a room full of umbrellas.
Only one edition is available.
Tracklist
CD

Doshaburi no Terrace Seki (どしゃぶりのテラス席)
Fuyutotetote (フユトテトテ)
Doshaburi no Terrace Seki (instrumental)
Fuyutotetote (instrumental)
Music Video (MV)