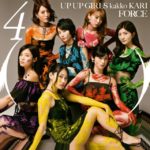 The new album of Up Up Girls kakko KARI will be released on August 29th.
It will be entitled 4th Album kakko Kari (4thアルバム(仮)). This is the 4th album of the idol group.
The members Sengoku Minami and Sato Ayano will make their last appearance ; they had announced their graduation from Up Up Girls Kakko Kari last April.
You can find the last singles of the idol group : Pearly People Alien / Seven☆Piece, !!!!!!!! / Kimi to Iu Kasetsu and Upper Disco / Forever Young.
The album will be sold in regular (CD) and limited editions (2CD).
The CD will contain in total of 12 tracks.
The limited edition bonus CD will contain new songs, each performed by a solo member.
Tracklist
CD

Pearly People Alien (パーリーピーポーエイリアン)
Upper Disco (アッパーディスコ)
!!!!!!!!
FOREVER YOUNG
Shout!!!!!!!!
Seishun no Namida (青春の涙)
Future&Past
FLASH
Seven☆Peace (セブン☆ピース)
Upperlay (アッパーレー)
Kimi to Iu Kasetsu (君という仮説)
Way of Our Life
Limited Edition CD2

Samuraidol ~Bushi Onnamichi no Ue Yori~ (サムライドル ~武士女道の上より~) / Sengoku Minami
Darling wa Lost Child (ダーリンはロストチャイルド) / Furukawa Konatsu
Megamorii! mavie!! (メガモリッ!mavie!!) / Mori Saki
Startline (スタートライン) / Sato Ayano
My World / Saho Akari
Kimi'iro Sky (キミイロスカイ) / Sekine Azusa
Shortcut ni Kataomoi (ショートカットに片想) / Arai Manami