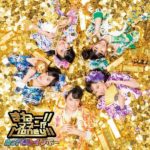 Tacoyaki Rainbow unveiled their new single.
It will be entitled Money!! Money?! Money!! (ま ね ー !! マ ネ ー!? Money !!) and will be released on September 20th.
The name Money is written in hiragana, katakana and roman writing.
Check out the MV below.
The A and B editions will contain only the main song, while those of the C, D and E editions will each contain an additional song.
The DVD of the A edition will contain the MV, its making-of and its dance version.
Tracklist
Type A

CD

Money!! Money!? Money!! (まねー!! マネー!? Money!!)

DVD

Money!! Money!? Money!! (Music Video)
Money!! Money!? Money!! (Making Of Movie)
Type B

CD

Money!! Money!? Money!! (まねー!! マネー!? Money!!)

Blu-ray

Special Off Shot Movie Tour 2017 Rainbow Revolution
Type C

CD

Money!! Money!? Money!! (まねー!! マネー!? Money!!)
Hona Mata ne Summer
Type D

CD

Money!! Money!? Money!! (まねー!! マネー!? Money!!)
Naretarana
Type E

CD

Money!! Money!? Money!! (まねー!! マネー!? Money!!)
TACOYAKI's Burning
Music Video (PV)