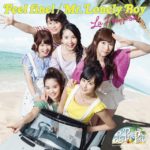 The new single of La PomPon will be released on August 30.
It will be entitled Feel fine! / Mr. Lonely Boy and will contain a double A-side.
It's the 6th single by the idol group La PomPon.
In the MV, the members of La PomPon are in a colorful seaside beach house estate and perform an energetic choreography. The theme of the song is summer.
The song Feel fine! is a cover of Kuraki Mai's song released in 2002.
The regular edition of the single contains a song titled Friends which will be the theme song of Tama & Friends, Uchi no Tama Shirimasen ka?. It will also contain a remixed version of the title song from their debut single Bump!!.
Another version of the very limited edition (only 1000 copies and sold only in Japan) with an autographed cover, will include a 32-page photobook and a special ticket for a La PomPon concert.
Tracklist
CD

Feel fine!
Mr. Lonely Boy
Friends (ふれんず)
Limited Edition CD

Feel fine!
Mr. Lonely Boy
Friends (ふれんず)
BUMP!! -Summer Remix-
Limited Edition DVD

Feel fine! (Music Video)
Feel fine! (Making Of)
Music Video (PV)