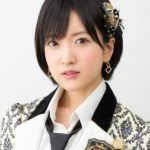 Two months ago, day to day, Suto Ririka announced her graduation from NMB48.
The date of her graduation will be August 30.
Suto Ririka had announced, on last June 17, her engagement. Although little details about her marriage have been released at this time, it seems the reactions from fans have been rather mixed. Some mention how she stole the spotlight, while others are surprised that she would reveal this without announcing her graduation first.
But since then, several details were communicated.
She intends to study abroad, in Germany after her degree at the end of August ; Suto Ririka said she was interested in philosophy for a while so she is expected to graduate in this field. She even published a book of philosophy (which she co-wrote) in 2016 and also gave a lecture on this subject at Kogakuin University.
Born November 23, 1996, Ririka will celebrate her 21 years old.
Nicknamed Riripon (りりぽん), Suto Ririka is a member of the NMB48 since November 2013 and is a 1st generation draft member. She also participated in the recording of some songs of AKB48.