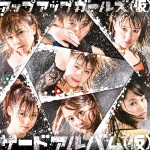 Up Up Girls (Kari) are going to release their 3rd album on March 17. The title is… Third Album (Kari) (サードアルバム(仮)).
The CD contains 15 songs including the latest singles of the idol group and 4 new songs.
The MVs for these new tunes have been released.
The limited edition comes with a bonus DVD featuring the video of the concert Up Up Girls (Kari) Live House Tour 2014 High Spurt Kingdom which took place at the Nagoya Diamond Hall.
Mori Saki told that it's been 4 years since the formation of the unit and that songs were more adult and cool as the members grew up.
Furthermore, Up Up Girls (Kari) Live Tour 2015 will be held from March 26 to June 14.
The idol group is also going to participate in Team Makenki Live Tour along with The Possible and Kikkawa You between February 21 and March 23.
Tracklist

CD

Beautiful Dreamer
Kira Kira Mirai (キラキラミライ)
Up & Up!
Enjoy!! Enjo(y)!!
Nijiiro Mosaic (虹色モザイク)
Zenryoku! Pump Up!! (全力!Pump Up!!)
Itadaki wo Mezase! (イタダキを目指せ!)
(Kari) wa Kasuze ☆ Be your Soul ((仮)は返すぜ☆be your soul)
Bijo no Yajuu (美女の野獣)
Jumper! (ジャンパー!)
Runway
Kono Melody wo Kimi to (このメロディを君と)
Party! Party!
Zenryoku! Pump Up!! -Ultra Mix- (全力!Pump Up!!-ULTRA Mix-)
Starry Night (y0c1e Remix)
DVD

Up Up Girls (Kari) Live House Tour 2014 High Spurt Kingdom (アップアップガールズ(仮) ライブハウスツアー2014 ハイスパートキングダム ~名古屋ダイアモンドホール決戦~)
Music Video (PV)