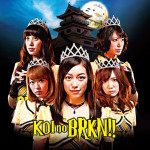 Hime Kyun Fruit Can's new single Koi no BRKN!! (恋のBRKN(バリキュン)!!) will be released on February 11.
BRKN (Barikyun) is a special collaboration unit consisting of Hime Kyun Fruit Can and Bary-san the mascot of Imabari city in Ehime prefecture.
In the music video, the members of the idol group play a 8-bit video game with their own characters and travel across different level in order to save the mascot.
Furthermore, Hime Kyun Fruit Can's 2nd major album Lightning Princess (電撃プリンセス) is on sale since December 24.
The concert tour HimeKyun Dengeki Tour 2015 is being held from January 18 to May 17.
Tracklist
Koi no BRKN!! (恋のBRKN(バリキュン)!!)
"Sode Gyu" de Hajimaru Otome Michi (「そでギュ」で始まる乙女道)
Koi no BRKN!! (Instrumental)
"Sode Gyu" de Hajimaru Otome Michi (Instrumental)
Music Video (PV)