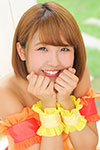 Iwasaki Yuki announced her graduation from Lovely★Doll.
Iwasaki Yuki explained that she had to graduate from the idol group due to poor physical condition. She has health problems since winter 2013, but she had decided to continue her activities as Lovely★Doll made their major debut in April 2014.
However, she wants to pursue her career in the entertainment industry.
Iwasaki Yuki's graduation live and ceremony are scheduled on April 4 at Tokyo Kinema Club.
She is the 2nd generation leader of Lovely★Doll.
She made the announcement herself on February 7 during the live performance of the idol group at Akiba Sofmap, Tokyo.