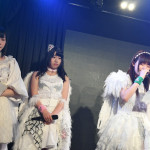 Sakaki Hitomi, Narai Yume, Mizuhara Shiori announced their graduation from Aoyama Saint Hachamecha High School.
The 3 members will leave Mecha High after a last live performance at the Tokyo Idol Festival 2016 in August.
This sudden announcement was made on April 30th during the live of the idol group at TwinBox Garage in Akihabara.
Each girl read a letter to give some explanations about this graduation.
Mizuhara Shiori suffers from a chronic disease. She will undergo a medical treatment.
Narai Yume is going to retire from the entertainment industry.
Sakaki Hitomi decided to leave the idol group for family reasons.
As a result, the staff of Aoyama Saint Hachamecha is going to hold auditions to recruit new members.