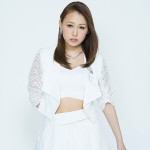 Akiyama Yurika announced her graduation from Ciao Bella Cinquetti (ex The Possible) on August 10.
Akiyama Yurika was an original member of The Possible since 2006. She was formerly part of of Hello! Pro Egg.
Ciao Bella Cinquetti will continue their activities as a 4 member idol group.
Akiyama Yurika explained that she had a lack of motivation for 6 months. There were many discussions with the staff and the other members before that she took this decision.
The unit has just celebrated its 9th anniversary on August 2 at Shinjuku Blaze, Tokyo.